I was
featured
on Mrs. Gambizzles Mili Monday's!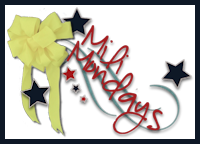 Also, I would like to thank you for commenting on my last
post.
It's helpful to me to know that people do read my blogs. I wish there was a "like" button like on Facebook. Then you could just like it and I would know that people read. I've been thinking about it for a while and I have a few idea's for a new segment and also a new blog hop idea as well. I'm in the "in development" stages of these so keep your eye out and I'll be posting about them soon enough.
I will also be doing a giveaway at 100 followers!
Again, thank you for letting me know. It really makes me feel better ♥