I really need to post in this weeks Thursday Five. I need to look back on the last week to find what I am truly lucky about. I've had a rough emotional week, that I may sometime blog about but not right now, and I need to look back and find the positives of the week. So this Thursday Five is really important to me.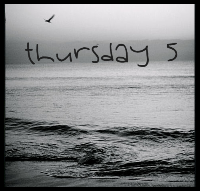 I am

thankful

for my parents. They have been more supportive through this "new journey" than I could have ever hoped for.
I am

giddy

that my husband called me this morning. I needed to hear his voice and Lucy needed to talk to her daddy.
I am

happy

that we have food in the house, and a house to live in.
I am

excited

that my mom is coming down in a couple of weeks.
I have an amazing husband who is making an amazing sacrifice to provide for his family. He loves Lucy and I more than anything in this world, and that makes me feel

adored.