Have you done your Thursday Five? There is still plenty of time, so head over to
Life as a Sailor's Girl
and link it up!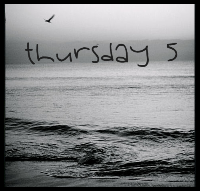 1. I am
Giggly
because in 24 hours my family will be here and in 120 hours we're going to Disneyland!
2. I love my evening time with Lucy. She gets very
Snuggly
and it makes me feel like my life has a purpose.
3. I am
Thankful
for my Sailor Man. For all he does for his family and the sacrifice he is making to do it for his family.
4. I am way
Excited
to go home for Thanksgiving. It is a much needed break!!
5. It makes my heart fill with
GLEE!
when I watch Lucy finish her puzzles by herself, or when she figures out a Blue's Clues or a Dora episode.