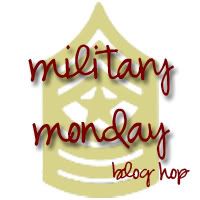 This is probably my new favorite blog hop, because you don't really have to post about anything in particular. You can write about whatever you want, and then link it up with
Marine Parents...Toughest Job in the Corps
and find some new
blogs to stalk
friends :) They also do a featured blog every week so you get to know some fellow bloggies!
Sailor Man feels that he is way to out of shape, he's at the high end of the weight limit for the Navy, so he's starting to work out again. We all know how it goes for men.. he'll work semi-hard and lose 20 pounds next week.
Speaking of weight loss... I am at a loss. When I started in January 2010 I was doing great. 1700 cals. a day and exercising/cardio every day and I lost 25 pounds in 2 months. Then my weight loss petered out to 10 pounds every 3 or 4 months to nothing. I've gained 15 pounds since moving to San Diego. I tried to start over again and my body is not responding.
I am considered morbidly obese (I'm 5'5 and I weighed in at 267 this morning, my BMI is 44.1) and I am starting to notice health problems coming to light. Example, I feel like I am not getting enough air. Sometimes it's hard for me to even walk up the stairs without getting out of breath. My doctor gave me an albutrol inhaler because at my last appointment I was wheezing. I find I have to use it much more often. I have zero energy and I don't sleep well. I KNOW my depression is linked to my weight, and I have constant headaches.
I recently learned that Tricare will pay for gastric bypass surgery (apparently they will pay for 1 elective surgery), and I am seriously considering it. I don't really know what else to do for myself. Diet and exercise is just not working anymore.
After talking to multiple friends I have decided to go ahead with my doctor's appointment on Tuesday to talk to my doctor. She may know of something the Navy offers to help, and before I "resort" to the surgery I am giving myself 3 months. I am joining weight watchers and I have a new exercise program I want to try, and if after 3 months of true honest hard work and I see little (-10 pounds or less) or no change in my weight I will pursue the surgery.
On a happier note.. we should be getting our tax return by the end of this week! I'm so ready to pay off these bills and actually have something in a savings account. On another happy note, Goose and I are flying home to see family while Sailor Man is underway. I'm excited to go home and see the snow! Goose is happy to go home and see Grandpa and papa, we're hoping to leave a week early so that Sailor Man can come and spend the weekend with his parents. He hasn't seen them since August, it would be nice for him to see his family.