This is my brand new, first ever, blog hop! I love doing blog hops because it's such a great way to meet new bloggy friends and read about fascinating people! And I love food, so I decided to combine the 2! Every Tuesday I will post a new recipe and "genre" and post my button and linky (courtesy of the wonderful
Christina!
)
So go check your recipe books, grab the button and link it up! Then go look at all the other blogs and find some new people to
stalk
read!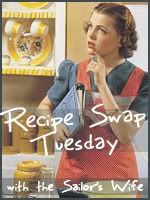 Artichoke Dip
Ingredients~

1 8oz can marinated artichoke hearts, drained and chopped
1 cup mayonnaise
1 4oz. can chopped green chilies, drained
1/2 cup freshly grated Parmesan cheese
Dash of Tabasco sauce (optional)

Directions~

1. Preheat oven to 400*
2. Combine all ingredients until well mixed. Place in an 8x8 baking dish
3. Cook for 20 minutes
4. Serve with pita chips, crackers, or sliced bread!