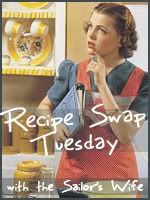 The salad I am going to share is:
Asian Pork Salad.
I drooled a little bit just thinking about it....
This recipe is PERFECT for your left over pork roast (any flavor - I usually do a terriyaki pork roast and it's amazing in this salad!), that is actually the only way I've ever made it, so I don't know how to make it without the left overs ok?
Salad:
Bag of packaged salad (I use the classic iceberg with the carrots and red cabbage already in it!)
1 c. chopped green cabbage
1/4 c.+ a little chopped red pepper
2 green onions, sliced thinly
1/4 - 1/2 c. sliced cucumber, julian style
1/2 c. peas
2 cups chopped pork roast
~ Combine ingredients in a bowl
Salad Dressing:
1 carrot, peeled and chopped
1 c. mayonnaise
2 tbsp. ground ginger
2 tbsp. soy sauce
1/2 tsp. sesame oil
2 tbsp. white sugar
~Combine carrot, mayonnaise, ground ginger, soy sauce, sesame oil, and white sugar in a food processor. Blend until smooth.
Directions:
Combine salad dressing and salad mixture to your own tastes!

Optional add ons: snap peas, fried wontons, crispy onions, other veggies
Now link it up with your salads!!