mmm... who doesn't love chocolate?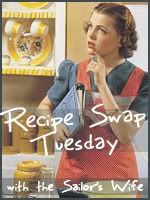 *not my photo as my brownies never comes out quite that pretty
1 box brownie mix (they suggest betty crocker since it's her recipe, but you can use whatever you want!)

---Water, vegetable oil and egg as calls for on the box of brownie mix
2 cups mini marshmallows
4 graham crackers, broken into small pieces
2 milk chocolate candy bars, broken into small pieces
Directions~
Heat oven to 350*
Make brownies as directed
After taking brownies out set oven to broil
Immediately sprinkle graham crackers and marshmallows on the hot brownies
Broil 30 - 60 seconds, just long enough for marshmallows to brown **watch carefully, it will brown fast**
Sprinkle on chocolate immediately after you remove from the oven.
Let cool 30 minutes before servings... but we never wait that long. So it's an ooey gooey mess, but a delicious mess!