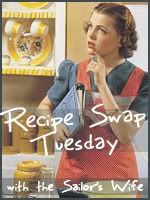 I love the crock pot. It's one of the best inventions EVER. I use my crock pot
at least
once a week. Sometimes twice. You just throw everything in there, forget it, and voila! Dinner is ready.
LOVE IT.
Chicken stew
4 celery stocks, chopped
1 medium onion, chopped (I like bigger chunks)
5 or 6 medium carrots, chopped
1 zucchini, chopped
1 squash, chopped
4 chicken breasts, cut in 1/2
Some potatoes (I use the russet potatoes, I cut up 2 or 3 into chunks, I peel them as well!) 3 or 4 garlic cloves, chopped
8 cups of water
8 small bullion cubes
Put everything in the crock pot on low 8-9 hours. Just before dinner take out all the stuff and mix some bisquick with some milk and make a thick batter. Drop in spoon fulls of it at a time and cook 3 minutes on each side in the hot liquid. Serve the stuff, dumpling and broth in a bowl.
Crock Pot Mac & Cheese
8 oz. macaroni
12 oz. can evaporated milk
1 1/2 c. reg. milk
1 can cheddar cheese soup
3 c. (12 oz.) shredded cheddar cheese, divided
1/2 c. butter
2 tbsp. oil
Cook macaroni for 5 to 7 minutes, drain. Mix macaroni into 1 1/2 cups cheddar cheese and remaining ingredients. Put rest of cheese on top. Cook on low heat in crock pot for 3 hours.
Crockpot BBQ Chicken
2 bottles BBQ Sauce
4 boneless skinless chicken breasts
small onion, quarters (optional)
Directions:
Cover bottom of crockpot with BBQ sauce, plan chicken in and cover with remaining BBQ sauce (I usually only use 1 bottle, but it's nice to have 2 just in case!) and cover with onions if you want them
Crockpot Corn Chowder
4 to 6 slices bacon or turkey bacon
1 med onion chopped
1 tablespoon flour
3 to 4 cups frozen corn
1 can cream of celery soup (Healthy Request)
1 cup chicken broth
1/2 cup green and/or red pepper, chopped
2 large potatoes red or yellow, cubed
1 cup evaporated milk (or cream)
herb seasoning blend
salt and pepper
1 to 2 tablespoons chopped fresh chives or green onions
Directions:
Saute bacon in skillet until crisp; remove with slotted spoon, drain, then crumble. If using turkey bacon, use a little vegetable oil in the skillet. Add onion to drippings and sauté briefly; sprinkle with flour and stir until well blended. In slow cooker, combine corn, soup, broth, chopped bell pepper, potatoes, onion roux mixture, and bacon in slow cooker. Cook on low for 7 to 9 hours. Add evaporated milk and seasonings in 30 minutes before serving. Serves 4 to 6.
Crockpot Lasagna
2 jars of spaghetti sauce
16 oz. uncooked lasagna noodles
24 oz. shredded mozzarella cheese
8 oz. shredded cheddar cheese
8 oz. shredded parmesan cheese
8 oz. container ricotta cheese
1/2 pound ground beef, cooked (optional)
1/2 pound itailian sausage, cooked (optional)
Directions
~ cover bottom of crockpot with spaghetti sauce
~ Layer uncooked noodles, sauce, ricotta cheese, cheddar, meat, parmesan, mozzarella, until you reach the top ~ Cover top layer with sauce and remaining cheese
~ cook on low for 5 hours. The first time you make this be sure you're home so you can test out the time.
Yummmmy!!! Let me see yours!