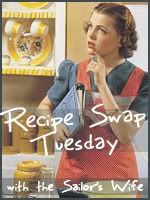 Since it's almost Easter, I thought it would be nice to swap Easter recipes! I have a couple that I will be sharing with you today! Easter was always a big deal in our family, we'd go to my grandparents house in California and have a blast. The dinner was always special because it was massive, we had all our family + close family friends. It's fun to remember these things as I've gotten older, and at least 1 of these dishes holds a special place in my heart.
1. Mom's Scalloped Potatoes (seriously, my favorite dish EVER. I would eat a mountain of these if I could - and it holds a place in my heart as it was my grandma's recipe)
Ingredients~

1 pound potatoes, thinly sliced (NOT julian but in round slices)
1 onion, chopped
2 or 3 cans of Cream of Celery Soup
8-16 oz. gruyere cheese

Directions~

1. Preheat oven to 375*, Grease bottom of pan
2. Put one layer of potatoes, sprinkle onion on top, spread some soup over the onions and then sprinkle with cheese. Repeat until you have a full pan. Cover with foil
3. Bake for 40 minutes, remove foil and cook 10 -15 minutes more until browned.
2. Sinful Potatoes
Ingredients~
2lbs frozen hash browns, thawed
1/2 cup melted butter
1 tsp. salt
1/4 tsp. pepper
1 can Cream of Mushroom soup
2 cups grated cheddar cheese
1/2 cup chopped onion
2 cups sour cream
Unseasoned bread crumbs

Directions~

1. Preheat oven to 350*
2. Combine all ingredients except bread crumbs in large bowl, mix well
3. Spread in a 9x13 baking pan, top with bread crumbs
4. Bake for 1 hour
3. Pineapple Stuffing (this is really sweet, so it tastes very desserty)
Ingredients~
1/2 cup margarine
1 cup white sugar
4 eggs
1 20oz. can crushed pineapple, drained
5 slices white bread, cubed
Directions~
1. Preheat oven to 350*, grease a 9 inch baking pan
2. In a mixing bowl, cream margarine and sugar. Beat in the eggs one at a time, then add the pineapple and bread cubes
3. Bake in oven for 1 hours. Let sit a few minutes before serving
4. Honey Butter Carrots
Ingredients~
5 cups sliced carrots (you can slice them anyway you want, I always do it length wise)
1 stick butter
1/2 - 1 cup honey
Salt & pepper to taste

Directions~

~ slice carrots
~ melt butter in large pan over medium heat
~ add 1/2 cup of honey, stir well
~ add carrots and saute over low-medium heat until carrots are tender
~ salt & pepper to taste!
5. Deviled Eggs
Ingredients~
12 Hard Cooked eggs
1/2 cup
mayonnaise
1 teaspoon
dried parsley flakes
1/2 teaspoon
minced chives
1/2 teaspoon
ground mustard
1/4 teaspoon
salt
1/4 teaspoon
paprika
1/8 teaspoon
garlic powder
1.
Slice eggs in half lengthwise; remove yolks and set whites aside.
2. In a small bowl, mash yolks. Add the next 10 ingredients; mix well.
3. Evenly fill the whites.
4. Garnish with parsley and paprika.
6. Green Bean and Tomato Salad
Ingredients~
1 pound fresh green beans
4 or 5 medium tomatoes, chunked
olive oil
red wine vinegar
coarse sea salt

Directions~

1. Cook and cool green beans
2. Mix all ingredients together, you have to judge how much oil and vinegar to use by your tastes. Salt to taste
3. Let refrigerate 2 - 3 hours before serving

Now, for all who participate this week your name will be put in a drawing to win a Free Scentsy item! So link it up with me!