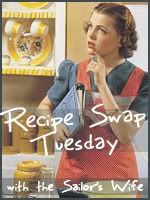 All this week I've had a poll on when to announce the recipes. We've been doing this for a few weeks now, and I'm not getting the participation I had hoped for. I thought maybe it was because I wasn't giving enough time, or maybe people don't understand what to do... So instead of exchanging this week I'm going to give the "rules" in which to participate!
1. Every Tuesday
(probably Monday night)
a recipe will be posted. I like to keep it in a general theme for people; salads, chicken, pork, grilling, etc.
2. I will post the blog on my facebook page, those who follow me there will know when it's time to link up!
3. There is a button code on each post, use it! It links it back to my blog so people can easily find the post for recipe exchanges.
4. When you link up -- add the name of your recipe so people will be able to decide which they want.
5. At the end of each recipe post I will post the following weeks recipe topic, giving you a full week to find one you want to share. I will do reminder posts and then of different blog posts throughout the week.
6. Have fun with it!!
Any questions, comments, concerns or tips would be appreciated in the comments!
Next weeks recipe: Potato Side Dishes