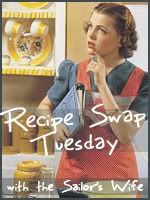 Yes I am fully aware that today is Wednesday, but I had so much going on yesterday I didn't get a chance to post the exchange. From now on I'll post on Monday nights so I don't miss it again, I don't like missing it either! Also, please note that on the top of my blog I have a poll: please answer!
This week is PORK!!! I'm not a huge fan of pork, there are few recipes that I enjoy eating... and most of them are either pork roast or pork tenderloin. However! I found this recipe for pork chops and I love love love it.
Golden Mushroom Pork & Apples
- 2 cans Campbell's Condensed Golden Mushroom Soup
- 1/2 c water
- 1 tbsp brown sugar
- 1 tbsp Worcestershire Sauce
- 1 tsp dried thyme leaves, crushed
- 4 large green apples, sliced
- 2 large onions, sliced
- 8 boneless pork chops (about 3/4" thick)
In a slow cooker mix soup, water, brown sugar, Worcestershire, and thyme. Add apples, onions and pork. Cover and cook LOW 8-9 hours.
My other favorite thing to do is buy a pork tenderloin and make my own marinade. Like this
Terriyaki
one, and then cook it in the oven... mmm so good.