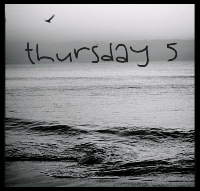 As
Nicole
pointed out, this is the last Thursday in May. How is this possible?! Soon enough it will be Christmas...
Great
Incredible
Inspired
Rewarding
Last night we went to Chick-Fil-A for a free dinner. They were doing a Military Appreciation dinner, and we each got a free dinner with a drink, games, cookies, and a chance to win prizes (we did not win). It was a
great
way to spend the evening together as a family, and we didn't have to spend any money doing it! I received
incredible
news this afternoon, I ovulated! *Hopefully* that means that all the booyah we've been doing will result in a pregnancy. Not that Sailor Man is complaining.
I was very
inspired
this week by a friend on facebook. Over the last 2 years, she has lost almost 175 pounds. She's incredible! Her words "If I can do it, anyone can" have really
inspired
me this week. I need to get my butt into gear and get that ticker to the right ------> moving down! It's been sitting there for like a month. No bueno.
Putting Goose in preschool 5 days a week has been so
rewarding
to us! Her attitude has improved so much, and I really feel like this has been an incredible thing for her. I am so grateful the military has a program we can afford here, because otherwise she'd be stuck at home all.day.long.
The weather has been absolutely
swell
lately. I love living in this area because of the weather. We get to enjoy all the amazing things San Diego has to offer because of the
swell
ness of the weather. I'm going to be super bummed to have to move somewhere else and lose this.
You should check out the
great
,
incredible
,
inspired
, soon to be
rewarding
,
swell
Summer Essentials Swap
Nicole is hosting. I missed last summers but I did a swap at Christmas with some other bloggers and it was a blast! You wont regret it!! But hurry, you only have until the 28th to sign up!