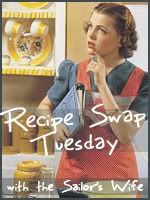 I didn't get a chance to announce this weeks swap, so I'm going to post a recipe and then we'll pick back up with the swap next week!

These are pretty much the best chocolate chip cookies you'll ever eat, seriously. You'll never use another recipe again! This was shared with me from a friend at my church, and I'm so grateful. I fought with myself in sharing this, because well - I didn't want to give it up haha! But I'll be nice and share with you.
Chocolate Chip Cookies:
1 lb butter-softened
2 cups brown sugar
1 & 1/2 cup white sugar
3 eggs
2 tsp vanilla
* beat above ingredients for 3 minutes with a hand mixer in a large bowl
then add:
6 cups flour
1/2 tsp salt
1 & 1/2 tsp baking soda
* sift these into the above, will be very dry, and hard to mix, mix well with wooden spatula
(I don't have a sifter, so I mix them in a bowl and then add to the mixture)
Add 2 packages of chocolate chips & mix again
*Optional to add 2 cups of walnuts if desire
Roll into 2" balls (make sure they're golf ball size)
Bake at 275 degrees for 20 minutes or until wet look is gone
Recipes yields 4-5 dozen cookies. May roll leftover cookie dough into a log roll, cover in plastic wrap and freeze for later use. Delicious to cut off one or two pieces when in need of a snack. Baked cookies also freeze well.
Next weeks exchange will be: Vegetarian Dishes!