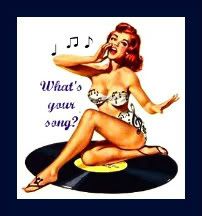 This is one of my favorite songs ever. I could listen to it over and over again. When I listen to it, I think about different times in my life. When I was in high school I had 3 very good friends, we called ourselves "the square" (yes, really!). We did everything together - we got classes together, went home together, shopping, homework, beach, tanning, boys, eating.. everything. We would go out every friday to Applebees and get the appetizer sampler and virgin strawberry daiquiri's.
We started drifting apart during our senior year. We were all going in different directions. I started dating Sailor Man, and my life was focused on him and deciding what we wanted. Jen was focused on theater. Brie was focused on getting her diploma early. Ashely was focused on her new group of friends. It was about half way through our senior year, where I realized we didn't have that much in common. I mean, we did at one point and that's why we were friends at one time or another. We were drawn to each other, but as we got older it was obvious that our interests were very different.
After Sailor Man graduated we moved down to Las Vegas and met a group of people that we fell into the same routines with. We hung out all the time. Partied, lived, went to school, shopped, and worked with. But again, as Sailor Man and I talked about marriage, our friendships went in different directions.
I've never really had girlfriends that I've kept for any real amount of time. I've always been secretly envious of the friendship's Sailor Man has with his two high school best friends. They're still best friends to this day. They talk often and have so many memories, when we're in the same town we always make plans to get together. I've always been jealous that I don't have friends like that.
Don't get me wrong -- I have lots of good friends, friends that I have a good time with, when we get the chance to be around each other, but we're not together that often. I miss having girls nights... I miss giggling for hours at lunch about everything. I'm making progress with making friends here, but living the Military life will never make it easy for me to make friends.
PS. I find the lead singer, Max Collins, super sexy in this video. Those eyes are ah-mazing!