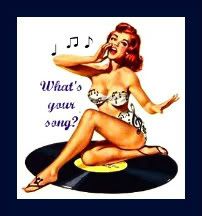 This song has been stuck in my head for weeks. Actually, only the chorus has been. I had no idea where I heard it, or who sang it, but it was in my head. Playing. Constantly. Then, randomly I was at the NEX when I heard it. I rushed to the monitor to hear who it was so I could find out all the information. I'm kind of musically challenged. I rarely listen to the radio, I have my ipod full of songs that I love. Mostly 80's hair bands, 90's boy bands, and some current stuff. However, I have been listening to the radio more frequently so my tastes are expanding...
I'm not going to give all my secrets away... but here are 5.
Sometimes I start randomly crying in the middle of the night. Sometimes, crying is a great outlet.
I'm seriously considering going to the open casting call for "The Biggest Loser" in LA.
I have a nightlight in our bedroom. I'm 26 years old, and I am scared of the dark
Sometimes when I'm in the kitchen cooking, I pretend I'm doing a cooking show. I'll stand at our island and go through all the steps, and pretend to stop and look at cameras.
I have a serious crush on Liam Neeson,
Do you have any secrets to share?