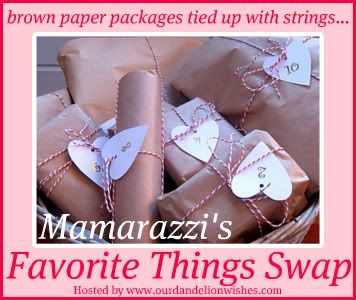 I am so beyond delighted to have participated in this swap. I loved putting together a package for my amazing partner, Chrissy from lil dash of diva. I received my package a couple days ago, and as I anxiously opened the box to see what I'd find, I was pleasantly surprised! We obviously think the same way, as I sent her some of her favorite things, and she sent me some of my most favorite!
Oooh, the suspense is killing me!
O.M.G. I love this tissue paper! I love that she wrapped it, and that it's adorable!!
The goods.
1. A 3 pack of fine point sharpies --- awesome
2. EOS Strawberry Sorbet lip gloss
3. Alba un-petroleum multipurpose jelly
4. E.L.F. beauty book, smoky eye set
5. Cover Girl wet slicks, fruit spritzers
6. Lovely pink sparkly head band
7. Not one, not two, but FOUR nail polishes! Sally Hansen Fuchia Power, Sally Hansen Strobe light, SC Frenzy, and Sally Hansen Fractured Foil. Goose is going to have a field day with this polish!
Thanks so much Chrissy, and thank you Mamarazzi for hosting this! I loved it!!